Lending Club (LC) is a peer 2 peer marketplace that allows people with extra cash invest their money in people who need cash. It is a great solution for both ends of the spectrum: investors and borrowers.
The net annualized return since June of 2007 for LC investors has been 9.67%. Since June of 2007 this return bests stocks and bonds, however, in the grand scheme of things, a three year period is a very small sample size. The historical returns of stocks have been around 7% and bonds are even less than that. Even if the Lending Club average return doesn't stay this high, it will definitely be a worthy investment.
Borrowers, on the other hand, are able to get loans with rates as low as 6.78%. The actual rate is based on your credit score, loan term, loan amount and credit history. The current national average for a $5,000 36-month loan is 12.26%. There's no reason not to check and see if LC can provide you with a lower rate.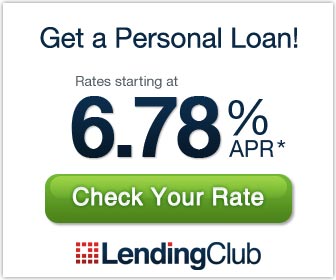 Lending Club is able to provide higher returns for investors and lower rates for borrowers because the investing directly with the borrower is a very efficient system. Banks and credit card companies have much higher costs of operation. LC does take a percentage from both the investors and borrowers.
I've been building a LC portfolio for over a year. I have not had any loans go into default and my net annualized return is 10.08%. My strategy involves investing in B rated notes for people that are trying to consolidate debt. The idea is that the borrowers you're giving money to are already paying debt. Since they're consolidating debt at a lower interest rate, it will be easier to pay the debt because the monthly payment will be reduced. Lending Club even offers bonuses for new investors.
Lending Club is a terrific option for both investments and loans. Learn more about my Lending Club referral at: http://www.personalfinancestartup.com/2010/10/21/lending-club-referral/